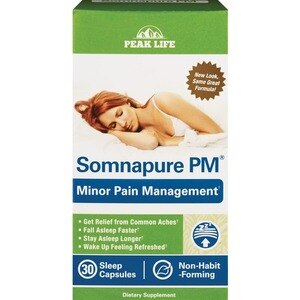 Peak Life Somnapure PM Advanced Sleep Formula Capsules
You May Also Like
Size: 60 TB

$9.49
Dietary Supplement. Featuring bromelain and melatonin with the complete tranquility blend. Relief. Relaxation. Rest. Non-habit-forming. Advanced sleep formula. With natural relief from minor pain. Get relief from common aches. Fall asleep fast & stay asleep all night. Wake up feeling refreshed. 2 easy-to-swallow capsules per night. Get the relief and sleep you deserve. Get relief from minor aches & pains. When you're sore and achy, it can be difficult to fall asleep and stay asleep. Somnapure PM helps relieve the annoying aches and pains that make sleep more difficult, so you can experience better sleep without the distraction of discomfort. Fall asleep fast & stay asleep all night. You don't have to spend each night tossing and turning. Somnapure PM's premium natural ingredients help you fall asleep fast and stay asleep all night by safely reestablishing your natural circadian rhythms. Wake up feeling refreshed. Some sleep aids leave you feeling groggy in the morning, but Somnapure PM contains optimal amounts of melatonin so you can sleep through the night and wake up feeling refreshed and ready to start the day. Live life at its peak. Peak Life is a nutritional supplements company committed to providing natural, holistic solutions to health concerns that affect millions of Americans. Maximize your health and feel your best again by using the full line of premium Peak Life products. Follow us: Visit www.PeakLife.com for healthy living news, tips and the latest deals. Somnapure PM's natural ingredients safely accomplish a simple goal: managing minor pain so you can get the sleep you deserve. The original Somnapure natural sleep formula continues to help many Americans fall asleep, stay asleep and wake up refreshed, but with over 70 million still suffering from sleep issues, sometimes kept awake by minor aches and pains, the scientists at Peak Life recognized the need for something more. Now, with Somnapure PM, you can get relief from minor aches and pains and finally take advantage of the great night of sleep all Somnapure products deliver. Bromelain: Everyday aches and pains can sometimes inhibit good sleep. That's why Somnapure PM contains bromelain, a natural extract derived from the stems of pineapples, that works to manage the minor aches and pains that have been keeping you up at night. Melatonin: Melatonin, a hormone produced in the brain, plays a critical role in your natural sleep cycles. Some sleep aids contain synthetic ingredients that can leave you drowsy in the morning, but Somnapure PM is different. Supplementing your natural melatonin levels help you sleep through the night, get the beneficial REM sleep you've been missing, and wake up feeling refreshed - not drowsy. Complete Tranquility Blend: Lavender helps produce a calming and relaxing effect that is conductive to falling asleep, while valerian and hops work together to help you fall asleep fast and stay asleep through the night. Our commitment. Our mission is to promote healthy living for our customers through the development of innovative supplements using natural ingredients. Please recycle to reduce our impact on the environment. (These statements have not been evaluated by the Food and Drug Administration. This product is not intended to diagnose, treat, prevent or cure any disease.) Proudly made in the USA.
Complete Tranquility Blend: Valerian Extract (Valeriana Officinalis) (Root), Hops Extract (Humulus Lupulus) (Flower), Lavender (Lavandula Angustifolia) (Flower). Other Ingredients: Cellulose, FD&C Blue 1, FD&C Red 3, Titanium Dioxide, Gelatin.
Nutrition Facts
Serving Size: 2 capsules
Servings Per Container: 15
Variation:
| Nutrient | Amount per Serving | % Daily Value |
| --- | --- | --- |
| Melatonin | 4 mg | |
| Milk | 2 | |
| Egg | 2 | |
| Peanut | 2 | |
| Tree Nut | 2 | |
| Fish | 2 | |
| Shellfish | 2 | |
| Soy | 2 | |
| Wheat | 2 | |
| Bromelain (74 gdu/g) | 400 mg | |
| Complete Tranquility Blend | 600 mg | |
Take two (2) capsules once daily 30-60 minutes before bed. Store in a cool, dry place. Protect from heat, light and moisture.
Do not exceed two (2) capsules in any 24-hour period. Do not drive, operate machinery, or consume alcohol while using Somnapure PM. Use only as directed. Consult your physician before use if you are pregnant or nursing, have a medical condition, or use prescription medication. For adult use only. Allergen Warning: Manufactured by equipment which processes products containing milk, eggs, soybeans, wheat, shellfish, fish oil, tree nuts and peanut flavor.