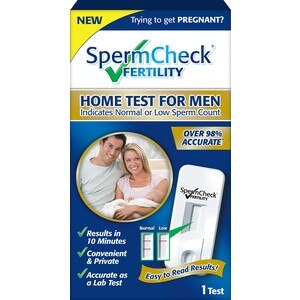 SpermCheck Fertility Home Test for Men
Trying to get pregnant? Indicates normal or low sperm count. Over 98% accurate. Results in 10 minutes. Convenient & private. Accurate as a lab test. Easy to read results. Contents: 1 SpermCheck device; 1 semen transfer device; 1 semen collection cup; 1 SpermCheck solution bottle; 1 instructions for use. SpermCheck Fertility is a home screening kit to test sperm in semen. This simple test will quickly let you know if your sperm count is within normal limits. Fast: Results in 10 minutes. Convenient: Test in the privacy of you home. Accurate: Results equivalent to a lab sperm count.
Store in a place at 36-86 degrees F (2-30 degrees C). Do not freeze.
For in-vitro diagnostic use. Not for internal use. Keep out of reach of children. Not for contraceptive use. Do not use if foil wrapper containing the test is damaged. Do not use this product after expiration date.