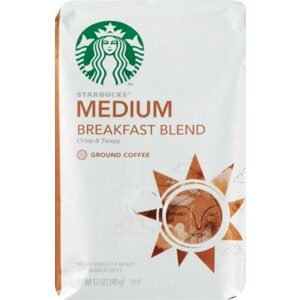 Starbucks Latin American Ground Coffee Breakfast Blend Mild
Latin America. A blend of Latin American coffees. Mild and flavorful, this light-bodied blend makes a bright first impression to begin your day. Good coffee, doing good. We believe there's a connection between the farmers who grow our coffees, us and you. That's why we work together with coffee-growing communities - paying prices that help farmers support their families and improve their farms, and funding education, healthcare and environmental projects that benefit those communities. It's all part of our commitment to sustainable growing practices and an equitable relationship with farmers that allows us to deliver superior coffee to you.
Tips for Great Coffee: Proportion - Measure 2 Tbsp (10 g) ground coffee to 6 fl oz (180 ml) water. To adjust strength, add hot water after brewing. Water - Use fresh, filtered water. Freshness - Once opened, store coffee for no longer than a week in an airtight container. Keep in a cool, dry place.