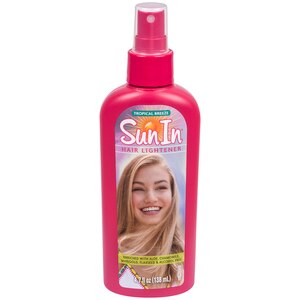 Sun-In Hair Lightener Original
With botanical extracts. Sun-In Super brings out your natural highlights just like the sun - only faster! Lightens and brightens blonde hair - making it blonder. Brunettes lighten up and look sun-bronzed and kissed by the sun. It's easy to use and gradually lightens hair while you relax in the sun or use a blow dryer. Best of all, you control how light you go! Each time you use Sun-In your hair gets lighter and brighter. Sun-In is alcohol free. Sun-In is recommended for blonds to medium brown hair. Reddish results may occur in dark brown hair. Not recommended for color-treated hair. The advanced conditioning system in Sun-In, with botanical extracts such as aloe, marigold, chamomile and flaxseed, pampers your hair while it lightens. Sun-In conditioners are light and won't weigh hair down, leaving it smoother, full of body, and more manageable. Special illuminators give hair an extra healthy dose of shine for a bright and sexy look. Highlights will be permanent. Contains no metallic dyes.
Product Type:

Hair Spray

Formulation:

Mist & Spray

Ship & Save:

Ship & Save Eligible
Water, Hydrogen Peroxide, Aloe Barbadensis Leaf Juice, Chamomilla Recutita (Matricaria) Extract, Calendula Officinalis Flower Extract, Linum Usitatissimum (Linseed) Seed Extract, Hydroxyethyl Cetyldimonium Phosphate, Dimethicone PEG-7 Phosphate, Glycerin, Quaternium-80, Panthenol, Silk Amino Acids, Polysorbate 20, Fragrance, Benzoic Acid, Disodium EDTA.
Before using, test a strand of your hair and follow all label instructions. 1. For all over highlights, simply spray Sun-In in your damp hair and comb through to evenly distribute. 2. For a sun-streaked look, spray only the strands you want highlighted. Try lightening the strands that frame your face for a brighter, sun-kissed look. 3. Relax and let the sun do the work to lighten your hair. Sun-In will bring out the same natural highlights you get from the sun - only mush faster. You can also bring out your highlights indoors with a little help from a blow dryer. Just spray Sun-In in your hair and let the heat of the blow dryer fill in for the sun. Use a little or use a lot. To get more dramatic highlights, continue using Sun-In until you reach the desired look.
Avoid contact with skin, eyes and clothing. If skin irritation or redness occurs, discontinue use. If accidentally sprayed in the eyes, rinse immediately with cold water.