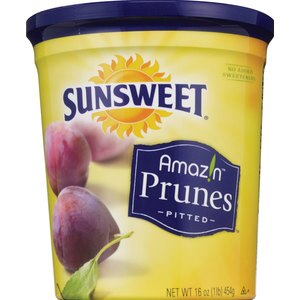 Sunsweet Gold Label Pitted Prunes (Dried Plums)
Compare & Save
with CVS Pharmacy Brands
Size: 18 OZ

$4.59

(25.5¢ / oz.)
Ounce for ounce, bite for bite&better than bananas. That's right, just one ounce of Sunsweet Prunes delivers more potassium than one ounce of bananas. So move over fresh fruit, it's time the once humble prune takes its rightful place as nature's ultimate convenient and nutrient-packed snack.
Per 1-1/2 Oz (40 g) (About 5 Prunes): Calories 100 (Calories From Fat 0); Total Fat 0 g (Saturated Fat 0 g; Trans Fat 0 g); Cholesterol 0 mg; Sodium 5 mg; Potassium 290 mg; Total Carbohydrate 24 g (Dietary Fiber 3 g; Sugars 12 g); Protein 1 g; Vitamin A; Calcium; Iron; Pitted California Prunes (Dried Plums); Potassium Sorbate (as a Preservative)
For best quality, refrigerate after opening. Diabetic Exchange: 1-1/2 fruit. Dried fruits have fiber along with carbohydrate and can be a good choice in your diabetic meal plan.
THESE PRUNES WERE MECHANICALLY PITTED AND MAY CONTAIN AN OCCASIONAL PIT OR PARTIAL PIT.