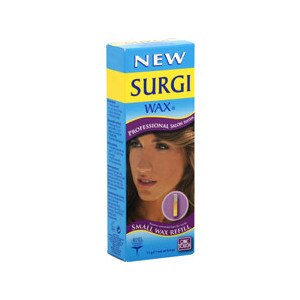 Surgi-Wax Small Wax Refill
Remove unwanted hair for weeks. 1 small wax refill (11 g net wt 0.4 oz); 1 small roller-head; 15 epilating strips. Made in USA.
Wax: Glyceryl Hydrogenated Rosinate, Triethylene Glycol Hydrogenated Rosinate, Beeswax (Cera Alba), Methylparaben, Propylparaben.
Use only with Surgi-Wax Total Body and Face Roll-On Waxer and Facial Waxer. If you are pregnant, have varicose veins, diabetes or skin disorders, consult a physician before waxing. Do not heat in microwave or any other oven, or on stove. Keep out of reach of children.