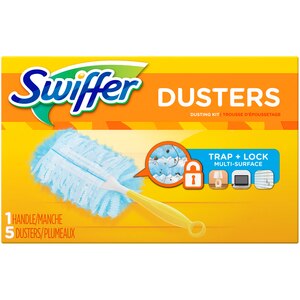 Swiffer Dusters Kit/Trousse
Allergen removal with improved dust pick-up. Swiffer Dusters have specially treated fibers that trap and lock dirt, dust, and common household allergens from cats, dogs, and dustmites. Swiffer Dusters leave no residue and are safe for use on virtually all surfaces, even glass and electronics! Great for damp dusting and smudge removal-just lightly mist the Swiffer Dusters with a multi-surface dusting spray. May leave a residue on glass surfaces when used wet. If using on electronic equipment, follow manufacturer instructions. For cleaning purposes only. Use only on cooled surfaces. This product is not intended for use on wet or anti-glare coated surfaces. Fabric made in USA.
Using your dusters snap the rounded ends together. Fluff. Using both hands, shake up & down quickly in a see-saw motion. Slide. With the fluffy side down, slide the forks into the white sleeves.
Avoid Accidents: Keep out of reach of children and pets to avoid accidental ingestion. Do not flush the disposable cloths.