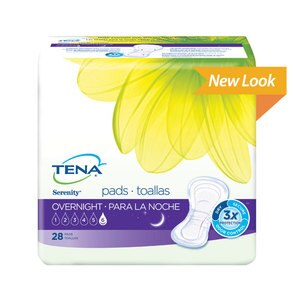 TENA Serenity Overnight Pads Ultimate Absorbency Full Coverage
Odasorb plus. Full coverage. Most absorbent. Specially designed to be wider in the front and back for protection while lying down. Cotton-like soft topsheet that pulls in liquid to keep you dry. OdaSorb Plus, pH-balanced system to fight odors. Dry Fast Core suber absorbent core locks in liquid quickly. Made in the Netherlands.
Non-flushable. Please remember to consult your healthcare professional about your urine leakage condition. To avoid danger of suffocation, keep plastic bags away from babies, children and pets.