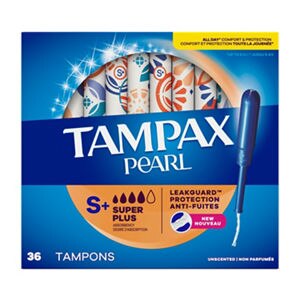 Tampax Super Plus Absorbency Plastic Tampons Unscented
LeakGuard design. LeakGuard Channels guide fluid to the absorbent core to help lock it away. LeakGuard Braid design for amazing backup protection. FormFit protection gently conforms to your unique shape. Smooth, rounded tip for comfortable insertion. Discreet, purse-resistant wrapper with easy-to-open tabs. Plastic applicator with anti-slip grip. Our best protection ever. Tampons come in standardized industry-wide absorbencies. Super absorbency: 12-15 grams. Made in USA.
Ship & Save:

Ship & Save Eligible
Rayon and/or Cotton Fiber, Polyethylene and/or Polypropylene Overwrap, Polypropylene Brand, Cotton Cord, Cotton and/or Polyester Thread.
Use for a maximum of 8 hours. Direction for use enclosed.
The risk of Toxic Shock Syndrome (TSS) increase with higher absorbency. In order to reduce your risk of TSS, you should use the lowest absorbency that meets your needs. Tampons are associated with toxic shock syndrome (TSS). TSS is a rare but serious disease that may cause death. Read and save the enclosed information.