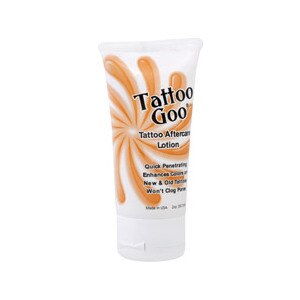 Tattoo Goo Tattoo Aftercare Lotion
Quick penetrating enhances colors on new & old tattoos. Won't clog pores. Tattoo Goo Lotion is a water based moisturizing lotion that penetrates deeply to provide long lasting protection against dryness. The non-greasy formula absorbs quickly and will not stain. Made in USA.
Water, C12-15 Alkylbenzoate, Cetyle Palmitate, Glycerine, Dimethicone, Stearic Acid, Beeswax, Triethanolamine, Polyethylene, Propylene Glycol, (and) Diazolidinyl Urea (and) Methylparaben (and) Propylparaben, Wheat Germ Oil, Acrylates/C10-30 Alkyl Acrylate Crosspolymer, Allantoin, Safflower Oil, Sunflower Oil, Vitamin A, Palmitate, di-Alpha Tocopheral Acetate, Chlorocalceferol (Vitamin D3), Disodium EDTA.
Consult your professional tattoo artist for complete aftercare instructions. Review ingredients for allergies. Do not use near eyes.