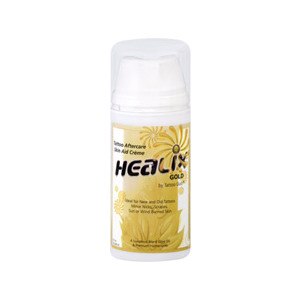 Tattoo Goo TattooSkin Aid Creme Aftercare
Ideal for new and old tattoos. minor nicks, scrapes, sun or wind burned skin. A luxurious blend olive oil & premium humectants. A water based moisturizing lotion that penetrates deeply to provide long lasting protection against dryness. The non-greasy formula absorbs quickly and will not stain. For centuries men and women have prized olive oil for its skin healing benefits. New Healix by Tattoo Goo harnesses the power of this superior healing humectant in a lotion designed for Tattoo Aftercare and the healing of minor cuts, scrapes and burns.
Water, Olive Oil, Cyclomethicone, Glycerin, Cetearyl Olivate, Sorbitan Olivate, Xanthan Gum, Citric Acid, Retinyl Palmitate (Vitamin A), Cholecalciferol (Vitamin D3), Tocopherol Acetate (Vitamin E), Corn Oil, Sodium Benzoate, Potassium Sorbate, Diazolidinyl Urea.
Apply a thin layer over the tattoo 3 or 4 times per day. Do not over apply. Avoid eyes. In case of contact with eyes, rinse immediately and abundantly with water and consult a doctor. Consult your professional tattoo artist for complete aftercare instructions. Review ingredients for allergies. Do not use near eyes.