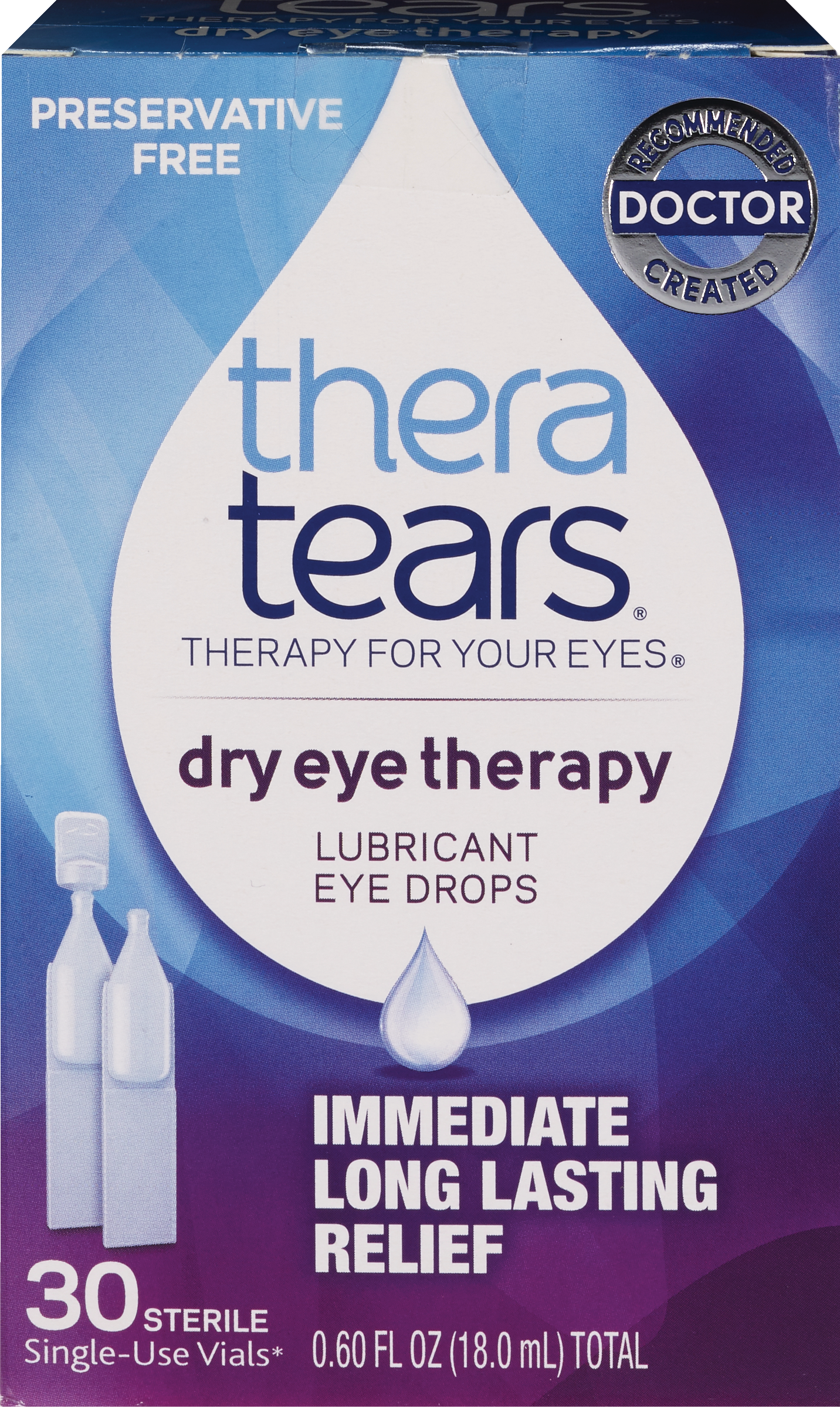 TheraTears Lubricant Eye Drops
Other Information: Use only if foil pouch is sealed and single-use container is intact. Do not touch unit-dose tip to eye. Misc: Preservative-free. Soothing dry-eye relief that works! Preservative free for sensitive eyes. Replicates human tears. Sterile. 32 single-use containers. Advanced vision research. TheraTears comes a foil pouch to ensure that is as fresh as natural tears. And it is preservative free so that you avoid the potential for irritation from the typical preservatives found in most bottled tears. Saturates dry eyes for maximum relief! 18 years of clinical research by an eye physician yields a medical breakthrough. I had seen hundreds of patients frustrated by dry eyes and I wanted to help them. That's why I developed TheraTears. I worked on this for 18 years and didn't give up. Use TheraTears and you will feel the difference. -Jeffrey P. Gilbard, MD. TheraTears was developed by Jeffrey P. Gilbard, MD in the clinics and laboratories of the Schepens Eye Research Institute. Advanced Vision Research remains committed to eye research, and the mission of developing major advances in the treatment of eye disease. Helpful Hints: TheraTears in preservative-free single-use containers is designed to saturate dry eyes, providing the dosing that is ideal for very dry eyes. For maximum hydration and relief of dryness doctors may recommend splitting the entire contents of one container between both eyes within a 5-minute period after opening, at least 4 times a day. Made in USA.
Active Ingredients: Sodium Carboxymethylcellulose (0.25%). Inactive Ingredients: Borate Buffers, Calcium Chloride, Magnesium Chloride, Potassium Chloride, Purified Water, Sodium Bicarbonate, Sodium Chloride and Sodium Phosphate.
Directions: To open, twist tab completely off. Instill 1 or 2 drops in the affected eye(s) as needed.
Warnings: For external use only, Other warnings: To avoid contamination do not touch tip of opened container to any surface. Do not reuse. Once opened discard. If swallowed, get medical help or contact a Poison Control Center right away. Do not use: if solution changes color or becomes cloudy. Stop use and ask a doctor if: you experience eye pain, changes in vision, continued redness or irritation; condition worsens or persists for more than 72 hours. Keep out of reach of children.