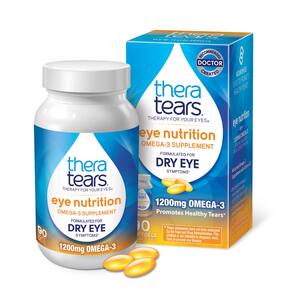 Theratears Nutrition Dry-Eye Relief Capsules
Omega-3 Supplement with vitamin E. Supports eye comfort & healthy tears. Optimized flaxseed/fish oil blend. 30 day supply. Our landmark research shows that omega-3 nutrition is critical for normal tear function that is necessary to maintain healthy, comfortable eyes throughout the day. And new research also shows that TheraTears Nutrition also supports saliva production that is necessary for oral health and mouth comfort. Try TheraTears Nutrition and see what we have accomplished! - Jeffrey P. Gilbard, MD. Unique optimized flaxseed/fish oil blend. The omega-3s in TheraTears Nutrition come from organically grown cold-pressed lignan-free flaxseed oil, and premium molecularly-distilled (mercury-free, PCB-free) fish oil. This flaxseed/fish oil blend supplements omega-3 metabolism better than flaxseed or fish oil alone, and makes TheraTears Nutrition great for healthy tears and eyes, and great for healthy saliva and oral health. Gluten free. The vitamin E in TheraTears nutrition protects our high quality omega-3s from oxidation, and helps support healthy omega-3 metabolism. (These statements have not been evaluated by the Food and Drug Administration. This product is not intended to diagnose, treat, cure or prevent any disease.)
Omega-3 Fatty Acids from Fish Oil and Flaxseed Oil: EPA (450 mg), DHA (300 mg), ALA (450 mg), Total Omega-3 Content (1200 mg). Other Ingredients: Gelatin, Glycerin USP, Soybean Oil (as a Carrier for Vitamin E), and Purified Water USP.
Suggested Use: Take 3 softgels in the morning or as recommended by your health professional. For best results continue TheraTears Nutrition beyond 4 to 8 weeks. Store product at room temperature. Do not expose to excessive heat or moisture.
Keep out of reach of children. As with any dietary supplement consult your healthcare practitioner before using this product especially if you are under medical supervision.