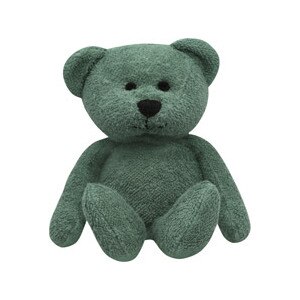 Thermal-Aid Bear Heating and Cooling Pack Green
Ages 3+. 100% natural. Reduces fever. Relieves pain. Washable. Soft. Cuddly. Sometimes nature needs a little science. Our researchers worked closely with milling engineers using a unique patented process, which removes the embryo/germ tip cap and outer coat from each kernel of corn, leaving the purest and cleanest portion of the corn product. This process hardens the specialized de-germinated corn, allowing it to hold temperatures evenly for long periods of time. Thermal-Aid Bear Uses: Fever; sunburn; earaches; flu symptoms; sprains; bee stings; headaches; sore muscles; growing pains; insomnia and much more. Made in the USA.
Natural Cotton and a Heating/Cooling Element Composed of a Specially Engineered Corn.
Cooling: Place the Thermal-Aid Therapeutic Bear in the freezer for approximately five hours. Exact cooling time may vary on freezer settings, product type and desired temperature. Heating: Place the Thermal-Aid Therapeutic Bear on a clean surface in the center of the microwave oven for approximately 45 to 60 seconds. The exact heating time may vary based on microwave settings, desired temperature and product type. Do not allow the bear to touch the walls of the microwave during heating. Do not heat in a conventional oven. Cleaning: Thermal-Aid Therapeutic Bears can be washed. Hand wash only, do not soak. Do not machine wash or dry clean. Use warm/hot water and mild soap. Lather, rinse and drip dry. Thermal-Aid Bear must be fully dried before re-use.
Not for use by individuals with corn allergies. Do not overheat! Follow directions exactly as printed on enclosed instructions. Use caution when removing the Thermal-Aid Therapeutic Bear from the microwave. If overheated, use oven mitts or a towel to safely remove from microwave. Extra caution should be taken by those who suffer from diabetes, nervous system disorders, circulatory disorders, or other disorders that cause impairment. Do not use if temperature is uncomfortable. Choking Hazard: If given to a child, use caution; this product contains small pieces that can cause choking. Children 3+ should be supervised when using this product. Not recommended for children under 3 years of age.