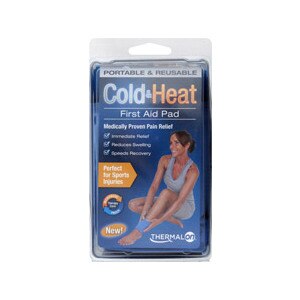 Thermal On Portable & Reusable Cold & Heat First Aid Pad Small
4-1/2 x 12 inch pad with securing strap. Portable & reusable. Medically proven pain relief. Immediate relief. Reduces swelling. Speeds recovery. Perfect for sports injuries. Microwave, freeze therapy core. Therapeutic relief that complies with medically accepted protocols. Thermal On First Aid Pads deliver a therapeutic treatment within prescribed time and temperature ranges. Simply freeze or microwave and apply directly to the skin. Use the adjustable strap to keep pad secure. An application of cold is recommended during the first 48 hours after an injury. Cold therapy helps the healing process and relieves pain-causing inflammation, An application of heat is recommended to relieve chronic pain and to reduce tension and muscle stiffness. Advanced Performance: timed-release treatment; uniform cold & heat; supports & protects; low profile. Thermal On First Aid Pads feature a proprietary gel-free process that layers specially chosen materials to create a soft pad that remains dry and conforming from the freezer or microwave. The patented design prevents bursting, bulging and leaking. Pads are latex-free, non-toxic and environmentally friendly. The durable material is non-absorbent and may be washed. Thermal On pads deliver timed release therapy that meets doctor recommended protocols. Therapy Core: Gel-free technology. Made in Taiwan.
To avoid tissue damage, neither cold nor heat should be continuously applied for longer than thirty minutes during a two hour period.
Complete instructions inside package. Always consult your doctor, pharmacist or therapist about your source of pain and appropriate treatments.