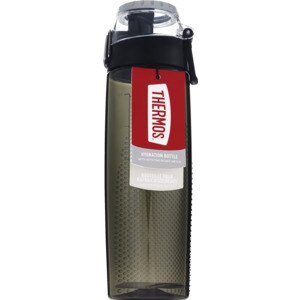 Thermos Hydration 24 oz Bottle with Meter
With rotating meter. Genuine Thermos brand. Rotating meter lets you monitor your daily water consumption. BPA free. www.thermos.com. Bottle made in USA.
Thermos Hydration Bottle Care and Use Guide: Care and use. Wash and rinse the product thoroughly before first use and after each use. Hand washing is recommended for best results. This product is dishwasher safe and placing it on the top rack is recommended. Do not use bleach or cleaners containing chlorine on any parts of the product.
Not for use with hot liquids. For cold liquids only. Hot liquids may cause bums. Dairy or other, liquids that spoil easily should not be kept in product for prolonged periods. Not intended for carbonated beverages as carbonation places product under pressure and may cause product to leak. Do not microwave.