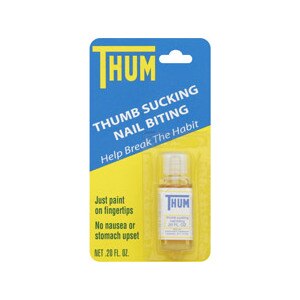 Thum Thumb Sucking Nail Biting Aid
Help break the habit. Just paint on fingertips. No nausea or stomach upset. For adults, teenagers and children. Thum help break the habit of nail biting and thumb sucking with the first application. Thum contains a bitter tasting, but harmless pure vegetable product which acts as an immediate reminder whenever user puts finger in mouth. Unlike other preparations, Thum contains no ingredients to cause nausea or upset stomach. Made in USA.
Cayenne Pepper Extract, Citric Acid, Isopropyl Alcohol, Acetone, Lacquer.
Apply to dry finger nails twice a day to help break the habit of nail biting and thumb sucking. Allow Thum to dry. Remove Thum with nail polish remover.
Tamper resistant package. Do not purchase if plastic cover has been broken open. In case of accidental ingestion, seek professional assistance or contact a poison control center immediately. Keep out of reach of children. Thum rubbed on eyes will cause stinging, relieve by washing with cold water. Do not use on babies too young to realize repeated rubbing causes stinging. if evidence of skin irritation appears, discontinue use and apply cream or lotion. Thum is flammable; keep away from heat and open flame. Thum will stain clothing and furniture finishes. For external use only. In case of accidental ingestion, contact Poison Control Center.