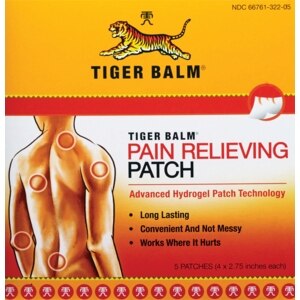 Tiger Balm Patch is a flexible pain relieving patch. Its warm penetrating action provides fast acting and long lasting relief for hours.
Ship & Save:

Ship & Save Eligible
Active Ingredients per 100 g of the Paste: Camphor (1.0 g), Capsicum Extract (0.2 g), Menthol (0.3 g).
Tiger Balm Patch provides a warming effect and is specially recommended for those who suffer from chronic or prolonged muscle aches and pain associated with backaches, sprains, strains and arthritis. Clean and dry area of application. Peel off the protective film and apply patch to the affected area once or twice a day. Bandage may be applied to further secure patch. For cooling effect, use Tiger Balm Patch-Cool. Once opened, keep unused patches in the original packaging and do not expose unused patches to the atmosphere for a long periods of time as it may affect the patch's performance. Please use as soon as possible to ensure maximum effectiveness. Store in a cool place away from direct sunlight.
For external use only. Do not apply to areas around eyes, mucous membranes, wounds or irritated skin. Do not bandage tightly. If condition worsens or persists for more than seven days, or clears up and occurs again within a few days, discontinue use immediately and consult a physician. May cause allergic reaction in some individuals with sensitive skin. If severe irritation occurs, discontinue use immediately and consult a physician. Do not use with heating pad. Remove patch one hour before taking bath to avoid hyper irritation during taking bath. Use patch 30 minutes after bath. As with any drug, if you are pregnant or nursing a baby, seek the advice of a health professional before using this product. Keep this and all drugs out of the reach of children. In case of accidental ingestion contact a Poison Control Center or physician immediately.