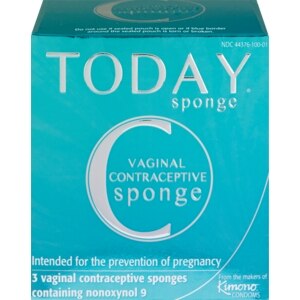 Today Vaginal Contraceptive Sponge
3 vaginal contraceptive sponges containing nonoxynol 9. Intended for the prevention of pregnancy. Today Sponge is a super soft polyurethane foam sponge containing nonoxynol 9, a spermicide used by millions of women for more than 20 years in other forms of intravaginal drug products. Today sponge has a unique 3-way action which provides safe and effective protection without hormones. 24-hour protection. Convenient. Not messy. Safe. Effective. Disposable. Easy to use. Allow spontaneity. Today Sponge provides 3-way protection: 1. Today Sponge blocks the sperm's path. 2. Today Sponge absorbs sperm. 3. Today Sponge continuously releases an effective spermicide which quickly kills sperm on contact. Made in USA.
Active Ingredients: Nonoxynol 9 (1000 mg). Inactive Ingredients: Benzoic Acid, Citric Acid, Sodium Dihydrogen Citrate, Sodium Metabisulfite, Sorbic Acid, Water in a Polyurethane Foam Sponge.
Before using, read enclosed consumer information leaflet for complete directions and information. Wet the sponge thoroughly with clean water, squeeze gently until sponge is very sudsy. With the dimple side inside, fold sponge. With string loop on bottom end, insert the sponge deep into the vagina (see diagram in enclosed leaflet). Protection begins right away and lasts for 24 hours even with repeated acts of intercourse. Wait 6 hours after last intercourse before removing sponge. Do not leave sponge in vagina for longer than 30 hours. If you have trouble removing or remove only part of the sponge from vagina, contact the Mayer Labs product support line or a health professional right away. Store at 68-77 degrees F (20-25 degrees C).
For vaginal use only. Not for rectal (anal) use. Toxic Shock Syndrome: Some cases of Toxic Shock Syndrome (TSS) have been reported in women using barrier contraceptives, including the sponge. TSS is a rare, but serious disease that may cause death. Warning signs of TSS include fever, nausea, vomiting, diarrhea, muscle pain, dizziness, faintness or a sunburn-like rash on face or body. If you have any of these signs, remove the sponge and get medical help right away. Allergy Alert: This product contains sodium metabisulfite which may cause severe allergic reactions in some people. Do not use if you are allergic to sulfites. Do not use if you have ever had an allergic reaction to nonoxynol 9 or to this product. Sexually Transmitted Diseases (STDs) Alert: This product does not protect against HIV/AIDS or other STDs and may increase the risk of getting HIV from an infected partner. Do not use: within the first six weeks after giving birth; if you have ever had toxic shock syndrome; during your menstrual period; if you or your sex partner has HIV/AIDS (If you do not know if you or your sex partner is infected, choose another form of birth control). Ask a doctor before use if you have: recently had a miscarriage or an abortion; been told that you should not become pregnant; a vaginal or uterine condition, such as a vaginal septum or uterine prolapse, which may keep the product from working; a new partner, multiple sex partners, or unprotected sex (Frequent use [more than once a day] of this product can increase vaginal irritation, which may increase the risk of getting the HIV/AIDS virus or other STDs from infected partners). When using this product: you may get vaginal irritation (burning, itching, or a rash). Stop use and ask a doctor if: you or your partner get burning, itching, a rash, or other irritation of the vagina or penis; you or your partner have difficult or painful urination; you get abdominal pain, fever, chills, or foul-smelling vaginal discharge; you become pregnant. Keep out of reach of children. If swallowed, get medical help or contact a Poison Control Center right away. In clinical studies about 1 out of 10 women (9-11%) got pregnant during the first year of use when using this product correctly all the time. The possibility of getting pregnant increases to about 1 out of 7 women (13-16%) when this product was not used correctly. Studies have raised safety concerns that products containing the spermicide nonoxynol 9 can irritate the vagina and rectum. Sometimes this irritation has no symptoms. This irritation may increase the risk of getting HIV/AIDS from an infected partner. You can use nonoxynol 9 for birth control with or without a condom if you have sex with only one partner who is not infected with HIV and who has no other sexual partners or HIV risk factors. When used correctly every time you have sex, latex condoms greatly reduce, but do not eliminate, the risk of catching or spreading HIV, the virus that causes AIDS. Use a latex condom without nonoxynol 9 if you or your sex partner has HIV/AIDS, multiple sex partners, or other HIV risk factors. Ask a health professional if you have questions about your best birth control and STD prevention methods.