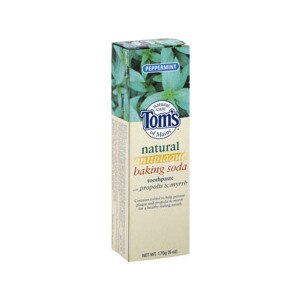 Tom's of Maine Baking Soda Antiplaque Toothpaste with Propolis & Myrrh Peppermint
With propolis & myrrh. Contains Xylitol to help prevent plaque and propolis & myrrh for a healthy-feeling mouth. Dear friends, When we founded Tom's of Maine in 1970, we based it on the idea that nature has answers to our everyday needs. Over the years, our team of herbal experts, dental health professionals, and scientists have proven our original belief: ingredients from nature really work. What makes our products so effective? We use natural ingredients in innovative ways without adding anything artificial. From toothpaste and mouthwash to soaps and deodorants, we think you'll enjoy the effectiveness and natural flavors and scents of our products. Please let us know what you think! Kate & Tom Chappell. Fluoride-free. Some people do not want fluoride in their toothpaste. We produce this toothpaste because we respect our customer's diverse needs and interests. What is Xylitol? Xylitol, a natural ingredient derived from birch trees, helps to prevent plaque buildup. What are propolis and myrrh? We use two special herbal resins, propolis and myrrh, to promote a clean, healthy-feeling mouth. Propolis is a mixture of tree resin gathered by bees and myrrh resin comes from the myrrh bush. This product does not contain saccharin; artificial sweeteners, preservatives, colors, or flavors; or animal ingredients. Tom's of Maine products are tested for safety without the use of animals. Made in USA.
Calcium Carbonate, Water, Glycerin, Sodium Bicarbonate, Xylitol, Carrageenan (Chondrus Crispus), Peppermint (Mentha Piperita) Oils, Sodium Lauryl Sulfate, Myrrh (Commiphora Myrrha), Propolis (Propolis Cera).
Brush thoroughly, preferably after each meal but at least twice a day, or as directed by a dentist or physician.