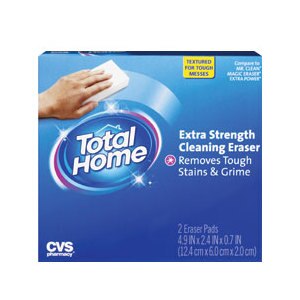 Total Home by CVS All Purpose Eraser
4.6 x 2.4 x 1.0 inch. Water activated cleaning pads. Removes scuffs, crayon markings and other dirt and grime. The CVS/pharmacy All Purpose Eraser lets you clean in ways that you never thought possible. The innovative soft, cleaning material acts just like an eraser and gets into grooves and corners where dirt and grime get trapped. The CVS/pharmacy All Purpose Eraser easily breaks up tough dirt, scuff marks, crayon or almost any other marks that were thought to be impossible to remove. It is all done with just water. No chemicals, no fumes or buckets are required to bring out the CVS/pharmacy All Purpose Eraser cleaning power. Try it out wherever you find tough dirt: Clean scuff marks and dirt from walls, floors and doors; Removes crayon marks from walls; Removes set-in dirt on refrigerators and other appliances; Cleans car interiors, boat interiors, even wheels; Cleans ground-in dirt on patio furniture; Breaks up tough bathroom soap scum; Use on athletic shoe soles, leather uppers and much more! Outdoors. Bathroom. Kitchen.
1. Wet with water and squeeze out excess. 2. Gently rub on surface to remove tough dirt and grime. 3. Throw away after multiple uses. Actual number of uses varies based on surface texture and soil level. Attention: The CVS/pharmacy All Purpose Eraser is a highly effective cleaning tool. Test first on an inconspicuous spot with light pressure to see if surface may scratch or dull. Not recommended for use on surfaces that are polished/ glossy, or on brushed, satin, dark, or faux finishes. If using for dishwashing, rinse dishes thoroughly. Do not use chlorine bleach.
Keep out of reach of children. Keep out of reach of toddlers and pets to avoid accidental ingestion. Do not use on skin or other parts of the body. Using on skin will likely cause abrasions.