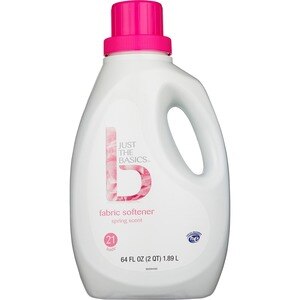 Total Home by CVS Concentrated Fabric Softener Spring Scent
You May Also Like
Size: 80 EA

$3.99

(5.0¢ / ea.)
Restores fluffy softness to blankets, towels, slips, blouses. Almost wrinkle-free drying. Reduces static cling. No phosphates.
This Fabric Softener is an Aqueous Dispersion of: Cationic Softening Agents; Perfume; Colorant
Do not pour Softener directly onto fabrics. For best results, always add Softener to the final rinse water. Do not add bluing, bleach, starch or other laundry products to the same rinse. This product is safe for all washable fabrics when used as directed. Recommended amounts: For large loads: Fill to line 4 (4 oz) in cap. For medium loads: Fill to line 3 (3 oz) in cap. For small loads and handwashing: Fill to line 2 (2 oz) in cap.
KEEP OUT OF REACH OF CHILDREN. IN CASE OF EYE CONTACT, FLUSH WITH WATER AND CALL A PHYSICIAN. EXPOSURE TO EXTREME TEMPERATURES MAY CAUSE PRODUCT TO THICKEN. IF THIS OCCURS, DISSOLVE RECOMMENDED AMOUNT IN 1 CUP HOT WATER AND PRODUCT WILL PERFORM SATISFACTORILY. DO NOT REUSE BOTTLE FOR STORING ANY BEVERAGES OR OTHER LIQUIDS. THIS PRODUCT SHOULD NOT BE USED ON GARMENTS LABELED AS FLAME RESISTANT OR ON CHILDREN'S SLEEPWEAR AS IT MAY REDUCE FLAME RESISTANCE. HARMFUL IF SWALLOWED.