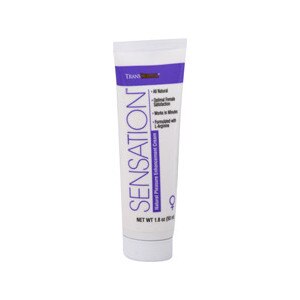 Transdermal Natural Pleasure Enhancement Cream
All natural. Optimal female satisfaction. Works in minutes. Formulated with L-Arginine. Sensation is formulated with L-Arginine, a natural amino acid proven to promote improved circulation in the very sensitive female genital area. Female sexual response is heightened when blood flow is increased to the genital tissue, particularly the clitoris and g-spot areas.
Water, L-Arginine, Choline Chloride, Sodium Chloride, Magnesium Chloride, Mineral Oil, Glyceryl Stearate SE, Squalane, Cetyl Alcohol, Propylene Glycol Stearate SE, Wheat Germ Oil, Glyceryl Stearate and Isopropyl Myristate and Stearyl Stearate, Polysorbate 60, Oleic Acid, Tocopheryl Acetate, Collagen Sorbitan Stearate, Vitamin A & D, Triethanolamine, Aloe Vera Extract, Sodium Benzoate, BHA.
Apply cream gently to the labia, clitoris and outer area of the vagina. Massage until cream is completely absorbed (1-3 minutes). The effect begins within minutes. Use as often as needed. To remove, wash with water. Close tube tightly after each use.