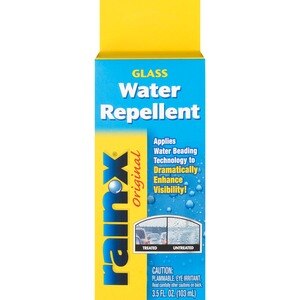 Transparent Polymer Coating, Original
Apply to exterior glass. Repels rain and reduces the adhesion of sleet and snow. Improves wet weather driving visibility. Lets you see clearly. Rain-X is invisible and non-reflective. The transparent polymer coating causes the rain, sleet and snow to bead-up and roll off glass surfaces. Rain-X also reduces the adhesion and build up of frost, salt, mud, insects and road grime to improve wet-weather visibility and driving comfort. Made in USA.
Remember: Always use your windshield wipers as necessary. For Exterior Use Only: automotive glass and windshields, exterior side and rear windows, fog lights and headlights. Note: Use only per label directions. Clean and thoroughly dry surfaces before treating. Apply in temperatures above 40 degrees F. Turn sprayer nozzle to spray/on position, pointing away from face. Apply Rain-X to a small, folded, dry cloth and wipe onto exterior glass using a firm, circular and overlapping motion. Allow to dry until slight haze appears. Reapply Rain-X to ensure complete and uniform coverage. Remove final haze with dry cloth or by sprinkling with water and wiping with a paper towel until crystal clear. After use, turn sprayer nozzle to off position. Store and transport in a closed upright position.
Important: Do not use on plastic unless pre-approved by the manufacturer of the plastic to be treated. Do not use on or allow product to contact painted surfaces, non-clear surfaces, surfaces treated with anti-reflective, scratch resistant, or other coatings. Flammable. Eye Irritant. Contains denatured alcohol. Precautionary Measures: Keep away from heat, sparks, flames and other ignition source. Store below 120 degrees F. Avoid contact with eyes. First Aid: For contact with eye, wash thoroughly with water and see physician if irritation persists. Use only as directed. Intentional misuse by deliberately ingesting can be harmful. Keep out of the reach of children.