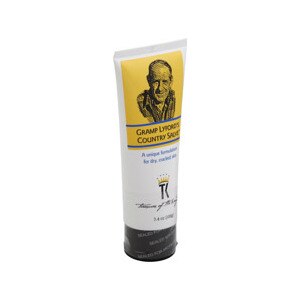 Treasures of the Kingdom Gramp Lyford's Coutry Salve
A unique formulation for dry, cracked skin. 100% fragrance and dye free. The safety of this product has been determined! Concentrated - a little goes a long way! Gramp Lyford's Country Salve was developed by pharmacists David and Rich Rechefort and named for David's grandfather George Lyford, who was a Chelsea, Vermont dairy farmer. They were inspired to create Gramp Lyford's Country Salve after noticing that daily exposure to the elements often left Gramp's hands dry, rough and cracked. This light greaseless salve contains urea and allantoin to better penetrate and moisturize dry skin.
Water, Squalane, Urea, Glycerin, Glyceryl Monostearate, Allantoin, Cetyl Alcohol, Ethoxydiglycol, Isopropyl Myristate, Stearic Acid, Veegum HV, Triethanolamine Lauryl Sulfate, Methyl Paraben, Propyl Paraben
Apply sparingly to soften and hydrate dry, rough skin. During harsh weather reapply frequently for more intense moisturizing benefits.
For external use only. Avoid contact with eyes. Discontinue use if signs of irritation or rash appear. Keep out of reach of children. Sealed for protection.