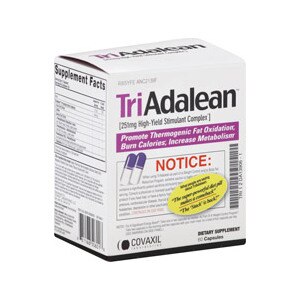 TriAdalean Dietary Supplement Capsules
Dietary Supplement. High-yield stimulant complex (251 mg). Promote thermogenic fat oxidation, burn calories, increase metabolism. What People are Saying About TriAdalean: The super-powerful diet pill makes a comeback. The stack is back! Triadalean's novel, high-potency, anthocyanin- and flavanone-rich complex was tested in a 12-week, double-blind, randomized, placebo-controlled human clinical trial involving 20 overweight volunteers (mean BMI 28.3). The subjects were randomly divided into two groups: an active group that received the triadalean weight-loss complex and a placebo group that received identical-looking capsules of maltodextrin (sugar pills). Subjects were instructed to take one serving in the morning and one with their main meal for a total of two servings per day. During the trial, the subjects were specifically told not to diet and maintained their previous eating habits (1500-2000 kcal/day) and daily physical exercise. Results: In addition to a truly significant loss of body weight, the study showed that the majority of the weight loss came from fat mass! Not simply body weight, but actual fat mass. The active group showed a mean reduction of 15.6% body fat, which was a significant improvement over baseline and over the placebo group. Weight-Control Components: Citrus (fruit) extract, guarana (fruit) extract. Energy Components: Caffeine, guarana (fruit) extract, alpha-phenylethylamine, phenylethan-2-amine, p-phenylethylamine, a-methylbenzylamine, phenethylamine (PEA), 1-phenylethylamine, theobromine. Our 100% satisfaction guarantee: Because no product or program will work for everyone, TriAdalean is backed by our 100% money back guarantee. (These statements have not been evaluated by the Food and Drug Administration. This product is not intended to diagnose, treat, cure, or prevent any disease.) Manufactured in the USA from domestic and foreign components.
Triadalean a Proprietary Blend Containing: Citrus (Fruit) Extract; Caffeine; Guarana (Fruit) Extract; Alpha-Phenylethylamine, Phenylethan-2-Amine (from Chlorella Algae (Chlorella Vulgaris) Powder); Beta-Phenylethylamine, Alpha-Methylbenzylamine (from Shali (Oryza Sativa L) (Seed) Powder); Phenethylamine (Pea), 1-Phenylethylamine (from Klamath Blue Green Algae (Aphanizomenon Flos-Aquae) Powder); Theobromine (from Cocoa (Theobroma Cacao L) (Seed) Extract. Other Ingredients: May Include: Gelatin, Rice Flour, Microcrystalline Cellulose, Stearic Acid, Magnesium Stearate, Silicon Dioxide, Titanium Dioxide, Red 3, Blue 1.
If you or your health-care provider have any questions, call: 1 -800-898-5153. This product Is manufactured to be within all acceptable industry variances. Use in conjunction with any sensible diet and exercise program. Individual results will vary. Product resale allowed only through authorized representatives. International distribution is not authorized without prior written approval. Note: For a Significant Energy Boost: Take one or two capsules as needed. As part of a weight-control program: Take two capsules in the morning and two capsules with your main meal, for a total of four capsules per day. Do not take more than four capsules in any 4-hour period. Do not exceed six capsules in any 24-hour period under any circumstances. Store at controlled room temperature 59 to 86 degrees F (15 to 30 degrees C).
Do not take more than four capsules in any 4-hour period. Do not exceed six capsules in any 24-hour period under any circumstances. This product contains a significantly potent xanthine (stimulant) mixture, of approximately 250 mg per serving. Consult a physician or licensed qualified health-care professional before using this product if you have had, or have a family history of, the following conditions: high blood pressure, cardiovascular disease, thyroid disease, seizure disorder, diabetes, recurrent headaches, depression or other psychiatric condition. Read the label and follow directions. Discontinue use and call a physician or licensed health-care professional Immediately If you experience rapid heartbeat, dizziness, severe headache, shortness of breath, or other similar symptoms. Consumption In excess of the recommended servings, or consumption of a serving at a more frequent interval than recommended, may cause serious adverse health effects. Not intended for use by pregnant or nursing women. Not for use by individuals under the age of 18 unless directed by a doctor. Do not exceed suggested daily serving. Use only as directed. Keep out of reach of children. Note: Limit the use of stimulant-containing medications, food or beverages (including caffeine) while taking this product because excess consumption of stimulants may cause nervousness, irritability, sleeplessness and occasionally, rapid heart beat.