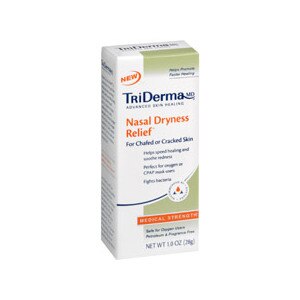 Triderma Md Nasal Dryness Relief
Moisturize and help heal dry, irritated nasal skin with Nasal Dryness Relief. This powerful gel combines soothing allantoin with AP4 Genuine Virgin Organic Aloe. This proprietary botanical complex contains more than 200 healing properties, including natural anti-inflammatory agents to reduce swelling, natural antiseptics to fight bacteria and natural analgesics to help soothe pain. Nasal Dryness Relief is a petroleum-free gel that helps provide soothing relief, safely and effectively, for dry, chafed nasal skin. It is ideal for those suffering from colds, allergies or climate changes or for those using oxygen machines or sleep apnea masks. It can be used on even the most sensitive, irritated skin.
Aloe Barbadensis (AP4 Genuine Virgin Organic Aloe Vera) Leaf Extract; Allantoin; Carbomer; Sorbitol; Phenoxyethanol; DMDM Hydantoin; Triethanolamine
Apply a thin layer to both internal and external nasal passage areas. Use as often as necessary for soothing relief. For CPAP mask users: Apply wherever mask touches the skin. Use before and after treatments to help protect skin. May also be used on other facial areas to relieve dryness or discomfort. Use as often as necessary.
FOR EXTERNAL USE ONLY. KEEP OUT OF REACH OF CHILDREN.