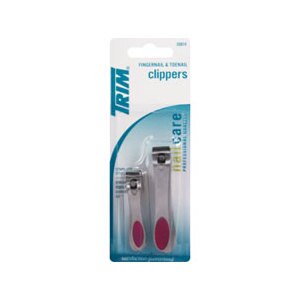 Trim Clippers Toenail Fingernail
Nail care implements. Precision edges for smooth cut. Soft grip. Stainless steel. Innovative products designed for women. Silk fingernail clipper plus toenail clipper. Manufactured in China.
Ideally nails should be cut when wet for smoother edges and best results. Fingernail Clipper: Cut fingernails into an oval shape and to a length which suits your preference. This nail clipper is for fingernails only. Toenail Clipper: Place clipper along toenail edge, being careful not to cut nails shorter than tips of toes for maximum safety and comfort. Toenails should always be cut straight across to help prevent painful ingrown toenails.
Keep out of reach of children. This product is not intended for use by children.