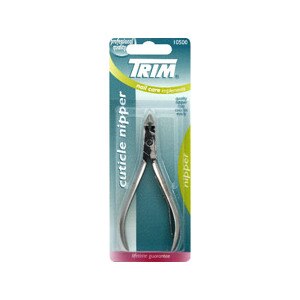 Professional quality. Quality nipper cuts cuticles easily. Cuticle Nipper: For over 60 years Trim has been the most trusted name in quality personal care products, offering the best customer value by providing quality at a popular price. Sharp blades to ensure accurate removal of cuticles. Easy-to-grip handles. Made in Pakistan.
Soak fingertips in warm, sudsy water to render cuticles soft and pliable. Push cuticle back into a square shape with the blunt end of a manicure stick. Cut the dead cuticle area, being careful not to cut live skin. This cuticle nipper is made for cuticle cutting only and should never be used for nails. Caring for you nipper: Keep lightly oiled and in a dry place to prevent rusting.
Keep out of reach of children. This product is not intended for use by children.