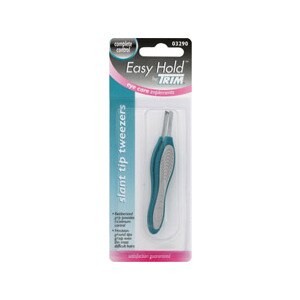 Trim Easy Hold Slant Tip Tweezers
Eye care implements. For over 60 years Trim has been the most trusted name in quality personal care products, offering the best customer value by providing quality at a popular price. Unique rubberized grip is textured to be slip-proof and provide maximum comfort and control. Precision-ground tips are permanently aligned for better grip to precisely grasp hair. Chrome finish. Made in China.
For best results apply a clean, damp, warm wash cloth first to open pores. Position implement comfortably in your hand. Grasp a single strand of hair; as close to the base as possible, and gently pull out in the direction in which the hair grows.
Keep out of reach of children. This product is not intended for use by children.