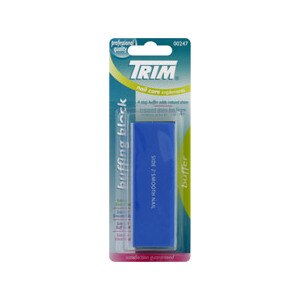 Professional quality. Nail care implements. 4 Step buffer adds natural shine. Improved design has larger surface area for easy use. Side 1: Even out. Side 2: Smooth nail. Side 3: Buff nail, Side 4: Shine nail. For over 60 years Trim has been the most trusted name in quality personal care products, offering the best customer value by providing quality at a popular price. Manufactured in China.
1. Even Out (Green Buff): Place buffer along nail edge at an angle and using gentle strokes in one direction only shape the nail into the desired style. Remove and even out edges of the nail. 2. Smooth Nail (Blue Buff): Use easy strokes across the nail to smooth deeper edges and remove stains. Very deep ridges may require more than one buffing treatment. Repeat every 2-3 weeks. 3. Buff Nail (Purple Buff): Buff nail surface to eliminate fine edges and stains. Use easy strokes across the nail for smooth matte finish before final shining. Repeat every I -2 weeks. 4. Shine Nail (Magenta Buff): Apply light pressure while stroking across the nail to bring out an amazing natural shine. The more often you repeat this step the shinier your nails will look.
Keep out of reach of children. This product is not intended for use by children.