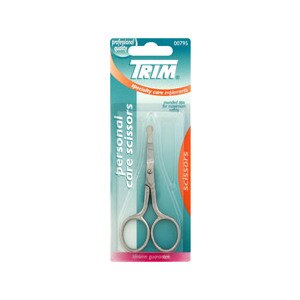 Trim Scissors Personal Care
Specialty care implements. Professional quality. Rounded tips for maximum safety. For over 60 years Trim has been the most trusted name in quality personal care products, offering the best customer value by providing quality at a popular price. Precision crafted for gentle cutting and durability. Rounded tips designed to safely cut hair from delicate personal areas. Made in Pakistan.
Safely cut nose hair and hair outside the ear as well as any other personal care areas. Use extreme care and gentleness while using this implement in delicate areas. Caring for your Scissors: Keep lightly oiled and in a dry place to prevent rusting.
Keep out of reach of children. This product is not intended for use by children.