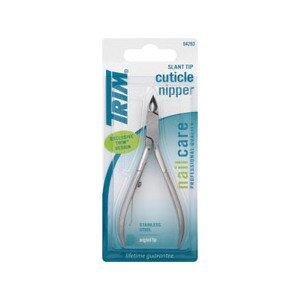 Trim Slant Tip Cuticle Nipper
Nail care. Professional quality. Exclusive trim design. Stainless steel. Angled tip. Trim products are manufactured to the highest quality standards that have satisfied customers for over 70 years. Angled tip for precise cuts. Ergonomically designed for easy use. Made in Pakistan.
Soak fingers in warm water to soften cuticles. Use nail care sticks to carefully push back cuticles. Cut only the dead skin being careful not to damage the healthy cuticle area. This nipper is made for cuticles only. Do not use on nails. Caring for Your Nipper: Keep lightly oiled and in a dry place to prevent rusting.
Do not use on inflamed or infected cuticles. Keep out of reach of children. This product is not intended for use by children.