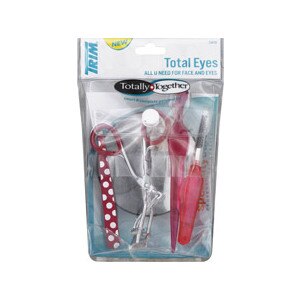 Trim Total Eyes Smart & Complete Personal Kit
All u need for face and eyes. Satisfaction guaranteed. Trim products are manufactured to the highest quality standards that have satisfied customers for over 70 years. Trim products are guaranteed to be superior in lasting performance and free from defects in material and workmanship. Manufactured in China to The W.E. Bassett Company's quality standards.
10X Magnifying Mirror: Mirror can be conveniently adhered to any flat, smooth surface, including mirrors and tiles. Clean and dry surface. Slightly moisten suction cups on the back of the mirror. Firmly press mirror into place on the clean, dry surface. Spooley: Use to lift eyebrow hairs upward. Tweezers: For best results, apply a clean, warm, damp washcloth to the area to open pores. Grasp a single strand of hair, as close to the base as possible, and gently pull out in the direction in which the hair grows. Eyebrow Shaper: Brush or comb hair into place. Hold razor at a 45 degree angle to skin and gently glide razor to remove hair. Eyelash Curler: Wipe rubber pad clean. Use before applying mascara. Steady your hand by resting elbow on a flat surface. Lift chin and look down into mirror. Widen opening. Position eyelashes above cushioned pad. Squeeze together gently but firmly for 15 to 20 seconds. For more curl, apply mascara. When dry, fluff lashes with dry brush and curl again.
Handle with care. Mirror may break if dropped. Keep out of reach of children. This product is not intended for use by children.