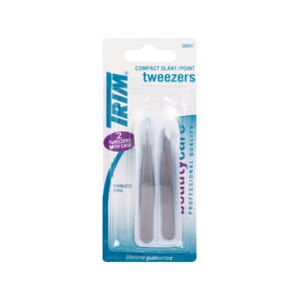 Compact slant & point tip. 2 Pack. Precision tips grasp even the most difficult hairs. Stainless steel. Combination point and slant tip tweezers. Trim products are manufactured to the highest quality standard that have satisfied customers for over 65 years. Stainless steel for long lasting performance and durability. Precision ground tips grasp even the finest hairs. Permanently aligned tips retain their pulling ability for a lifetime. Manufactured in China.
For best results, apply a clean, damp, warm washcloth to the area to open pores. Grasp a single strand of hair, as close to the base as possible, and gently pull out in the direction in which the hair grows.
Keep out of reach of children. This product is not intended for use by children.