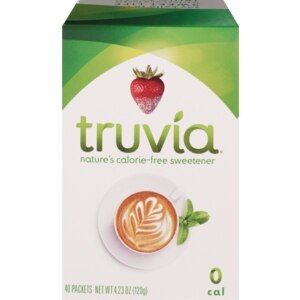 Truvia Calorie-Free Sweetener
The Truvia brand has strong, environmental, economic, and social sustainability goals for bringing stevia from field to table. Rebiana is born from the sweet leaf of the stevia plant, native to South America. Dried stevia leaves are steeped in water, similar to making tea. This unblocks the best tasting part of the leaf which is then purified to provide a calorie-free sweet taste. Erythritol is a natural sweetener, produced by a natural process, and is also found in fruits like grapes and pears. Natural flavors complement the clean sweet taste of Truvia natural sweetener. One packet of Truvia natural sweetener provides the same sweetness as two teaspoons of sugar. Nature's calorie-free sweetener. Suitable for people with diabetes.
Erythritol, Rebiana, (Stevia Leaf Extract), Natural Flavors.
Nutrition Facts
Serving Size: 1 packet
Servings Per Container: 40
Variation:
| Nutrient | Amount per Serving | % Daily Value |
| --- | --- | --- |
| Calories | 0 | |
| Total Fat | 0 g | |
| Sodium | 0 mg | 0 % |
| Total Carbohydrate | 3 g | 1 % |
| Protein | 0 g | |
| Kosher | | |
| Erythritol | 3 g | |
| ServingSize-InGrams | 3.5 g | |