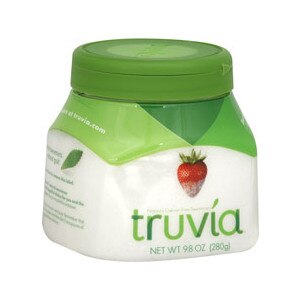 Truvia Calorie Free Sweetener
Nature's calorie-free sweetener. Honestly sweet. Truvia natural sweetener is born from the stevia leaf with zero calories. Each spoonful of sweetness begins with rebiana, the best-tasting part of the stevia leaf. Go ahead, grab a spoon and enjoy. We promise it won't end up on your conscience or your thighs. Taste sweetness without guilt. Truvia natural sweetener is the beautiful choice for you and the planet. Please recycle this container. Sweetness equal to 160 teaspoons of sugar - with zero calories. Suitable for people with diabetes.
Erythritol, Rebiana, Natural Flavors.
Measure to your own taste. Remember that 3/4 teaspoon sweetens like 2 teaspoons of sugar with no calories.