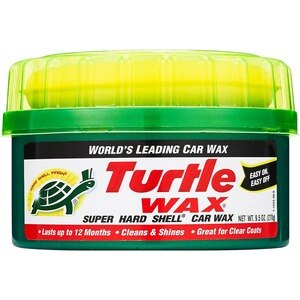 Turtle Wax Super Hard Shell Car Wax
World's leading car wax. Cleans & shines. Great for clear coats. Hard shell finish. Easy on, easy off formula. Hard Shell Shine & protection. Lasts up to 12 months. Clear coat safe. World leader thru innovation. Made in USA.
Wash & dry car. Apply on a cool clean surface, not in direct sunlight. Apply a small amount of product onto damp applicator and spread evenly on one section at a time. Allow to dry to a haze. Remove excess with a soft cloth. Buff lightly for maximum shine. Not intended for vinyl, wood or flat paint.
Keep away from children. Keep from freezing.