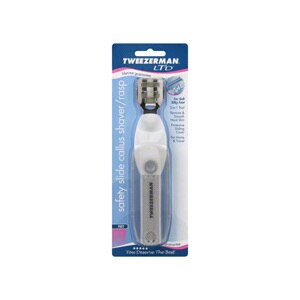 Tweezerman Safety-Slide Callus Shaver
Protective sliding cover. The Safety Slide Callus Shaver/Rasp is the perfect combination tool for removing callus and smoothing skin. With its innovative design, this two in one tool employs a unique slide and lock mechanism that allows you to safely conceal the shaver portion of the tool when not in use. Great for home and travel. Made in Germany.
Keeping hands away from blade, make sure tool is locked in plate. To remove calluses, use on moist skin and gently draw shaver across callus in a shaving motion to remove thin layers of dead skin. Do not shave live skin. To smooth skin using rasp, firmly depress the button on handle and slide shaver down into case, being careful to not touch blade. (Note: There is a notch on the bottom of the handle for your fingernail to assist in sliding the shaver down into the handle and exposing the rasp). Once toll is locked in place, you can flip the tool and use rasp with back and forth motion to smooth skin. How to Change Blade: 1. Lay on flat hard surface. 2. Hold sides; push handle forward. 3. Lift. 4. Insert new blade. Hold sides, press down on handle and pull towards you.
To ensure safety when removing product, open packaging from bottom. Blade is razor sharp. Handle with extreme care. Do not shave live skin. Diabetics or hemophiliacs should not use this tool.