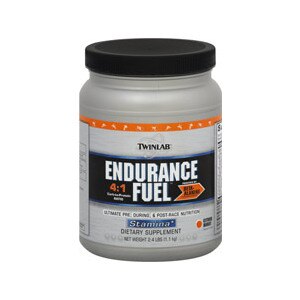 TwinLab Endurance Fuel for Stamina Citrus Burst
Dietary Supplement. Natural flavors. 4:1 Carb-to-protein ratio. Powered by Beta-Alanine - the endurance ingredient. Ultimate pre, during, & post-race nutrition. The Science Behind the Size: Product: a serious multi-stage formula that anticipates the body's needs for pre, during and post-race nutrition. Stage 1 Defense Complex: Fusion of antioxidants combine to protect muscles during exercise. Stage 2 Endurance Blend: Beta-alanine supports muscular endurance, power and output; a powerhouse carb blend releases energy faster (waxy maize, glucose), sustains it (maltodextrin), and acts as an energy reservoir to help you finish strong (isomaltulose); electrolyte blend aids proper hydration and helps you overcome heat stress. Stage 3 Recovery Matrix: Time released whey and casein proteins, at a 4:1 carb-to-protein ratio, help prepare muscles for faster recovery even during activity. Result: sustains optimal performance, enhances endurance and speeds recovery. Science: clinical studies indicate that beta-alanine raises the anaerobic threshold in endurance athletes without any weight gain, it also assists power athletes to delay fatigue; combined with a host of clinically-tested nutrients to enable longer performance and greater output. No artificial colors; zero fat; clinically tested ingredients. (These statements have not been evaluated by the Food and Drug Administration. This product is not intended to diagnose, treat, cure, or prevent any disease.)
Defense Complex: Ascorbic Acid, D-Alpha Tocopheryl Acetate, Beta Carotene. Endurance Blend: Glucose, Isomaltose, Maltodextrin, Waxy Maize, Beta Alanine. Recovery Matrix: Calcium Caseinate (from Milk), Whey Protein (from Milk). Other Ingredients: Natural Flavors, Salt, Sucralose, Potassium Chloride, Soy Lecithin.
Mix 1 scoop (31 g) with 20 oz. of cold water in a glass or water bottle. Use before, during or after exercise. For best results, use a shaker cup to thoroughly dissolve the powder. For more flavor, use 16 oz water. Use before, during and after exercise.
Contains milk and soy ingredients. Produced in a facility that also processes egg, wheat, treenut, peanut, fish and shellfish ingredients. Keep out of reach of children.