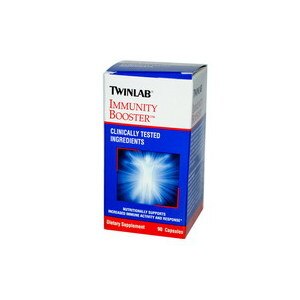 TwinLab Immunity Booster Capsules
Dietary Supplement. Clinically tested ingredients. Nutritionally supports increased immune activity and response. Twinlab's Immunity Booster contains an exceptional blend of clinically tested ingredients including the precise amount of arabinogalactan plus beta glucan that help support the body's immune system function. Vitamins C and E also have been shown to help fight free radical damage while herbs elderberry and echinacea along with minerals zinc and selenium help support a healthy immune system. That's why Twinlab's Immunity Booster can help support optimal health and wellness throughout the year. What are beta glucan and arabinogalactan? Beta glucan is a polysaccharide found in barley and oat wholes. Arabinogalactan is a water-soluble polysaccharide found in many foods such as carrots and radishes. However, uniquely high concentrations of this fiber are found in the bark of the western larch tree (larix occidentalis), the source of Immunity Booster's Arabinogalactan. How does beta glucan and arabinogalactan provide immune support? Beta glucan helps increase the amount and activity of immune cells, the body's first line of defense. Arabinogalactan has been shown to have a positive impact on the human immune system. Human studies, conducted at several major US universities, showed increased immune cell proliferation at consumption levels of about 1500 mg of Arabinogalactan per day, the precise amount found in Twinlab's Immunity Booster. (These statements have not been evaluated by the Food and Drug Administration. This product is not intended to diagnose, treat, cure, or prevent any disease.)
Proprietary Blend: Astragalus Root, Echinacea Purpurea (Leaf and Stem), Elderberry Fruit. Other Ingredients: Gelatin, Rice Flour, Purified Water, Silica, Magnesium Stearate.
Take three capsules daily, preferably with food. Store in a cool, dry place.
If you are pregnant or nursing, taking any medication, or have any medical condition, consult a health care professional before use. Keep out of reach of children.