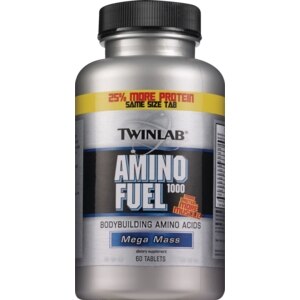 Dietary supplement. Bodybuilding amino acids. 25% More protein. Same size tab. More protein - more muscle. The Science Behind The Size: Product: Improved with 25% more protein in the same size tablet. Higher potency and faster absorbing branched chain amino acids, peptide bonded and free amino acids that are essential for building muscle. Result: Increases protein synthesis which optimizes muscle growth. Science: Amino Acids are the building blocks of protein. Protein availability is an essential element of building muscle, when used as part of a low-fat diet and exercise program. Research shows that when taken orally, peptide bonded amino acids, the most easily digested form, are absorbed faster than other types of proteins. (This statement has not been evaluated by the Food and Drug Administration. This product is not intended to diagnose, treat, cure, or prevent any disease).
Hydrolyzed Whey Protein Isolate (From Milk), L-Glutamine, Cellulose, Vegetable Stearic Acid, Croscarmellose Sodium, Egg White Hydrolysate, Silica, L-Carnitine L-Tartrate, Polyethylene Glycol, Carrageenan, Maltodextrin, Water.
As a dietary supplement, take 4 tablets with each meal, or as recommended by a professional trainer. For best results, use as part of a low-fat diet and exercise program. Use this product as a food supplement only. Do not use for weight reduction.
Keep out of reach of children. Unless recommended by a health care professional, not intended for use by individuals under the age of 18.