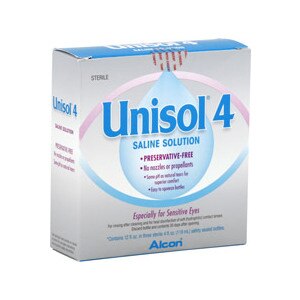 Sterile. Preservative-free. No nozzles or propellants. Same pH as natural tears for superior comfort. Easy to squeeze bottles. Especially for sensitive eyes. For rinsing after cleaning and for heat disinfection of soft (hydrophilic) contact lenses. Unisol 4 is a sterile preservative free saline solution balanced to the same pH as your eye's natural tears for superior comfort.
Ship & Save:

Ship & Save Eligible
Unisol 4 Saline Solution is an Aqueous Solution Containing Sodium Chloride, Boric Acid, and Sodium Borate.
To open container, press down on cap and turn cap clockwise. A molded piercing insert inside the cap will puncture the container. Remove cap and follow directions. Clean, rinse, and disinfect your lenses each time you remove them. Always wash your hands before handling lenses. Fill empty storage case with fresh Unisol 4 Saline Solution. Clean and rinse one lens first (always the same lens first) and place into correct chamber of your lens case. Close chamber securely. Repeat for other lens. Disinfect according to the directions of your heat unit. Discard bottle and contents 30 days after opening. Store at room temperature. Keep tightly closed. See package insert printed on inside of carton for complete instructions and important safety information.
For Your Protection: This one-piece container should not be used if any leaks are present prior to opening. Leaks can be detected by removing the cap and squeezing the bottle. To avoid contamination and possible eye infection, do not touch the tip of this container to any surface. Should the top of any container become contaminated, discard the container and its contents. Do not transfer saline to another container. Because Unisol 4 Saline Solution contains no preservatives, it will not remain sterile indefinitely after opening and, therefore, should not be used as an eyedrop. Do not use if solution is cloudy or discolored. Keep out of reach of children. Tamper evident.