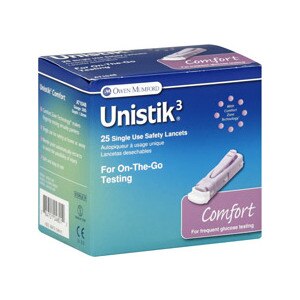 Unistik3 Comfort Use Safety Lancets
For on-the-go testing. With comfort zone technology. For frequent glucose testing. AT1048. Gauge: 28G. Depth: 1.8mm. Comfort Zone Technology makes fingertip testing virtually painless. Single use for safety at home or away. Needle point automatically retracts to avoid the possibility of injury. Safe and easy to use. Sterile - single use. CE listed. Made in England.
Twist cap to unlock and continue to twist until cap separates easily from lancet body. Do not pull! Choose a sample site. Press platform firmly against chosen site. Press release button. Dispose of in a suitable sharps container.