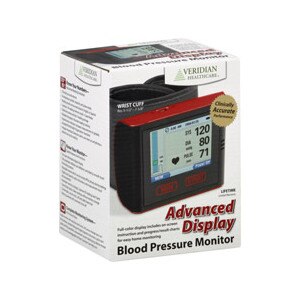 Veridian Healthcare Advanced Display Blood Pressure Monitor Wrist Cuff
Fits: 5-1/2 inch to 7-5/8 inch. Clinically accurate performance. Full-color display includes on-screen instruction and progress/result charts for easy home monitoring. Technology made easy with advanced display instruction and graphics. Audible readings in English and Spanish with volume control. Two user, 30-reading memory banks and guest mode selections. Easy to follow on-screen operation instructions. Animated reading progress and pulse wave measuring graphs. Complete measurement display with comparison to WHO (World Health Organization) standards. Memory bank visual comparison charts. Selecting a wrist monitor. Wrist blood pressure monitors are a proven accurate method of home blood pressure monitoring. Many people may find a wrist cuff easier to apply than a traditional arm cuff. This monitor fits wrist size: 5-1/2 inch to 7-5/8 inch. Using the wrong cuff size could result in inaccurate measurements. If your wrist measurement is outside the stated size range, it is necessary to use an arm cuff monitor. People with hypertension, arteriosclerosis or diabetes should consult their physician about monitoring blood pressure at the wrist. Know Your Numbers: Advanced reading evaluation. Clinically accurate device. Simultaneous systolic, diastolic and pulse results. Reading results announced aloud in English or Spanish. 2-person, 30-reading memory recall + Guest Mode. Date/time stamp and last 3 reading average. Detailed histograms illustrate reading tracking. Hypertension Indicator compares measurements to globally accepted World Health Organization standards. Irregular Heartbeat Detection alerts user when an arrhythmia is present during the reading. Know Your Monitor: Quality features and functions. Full-color informative digital display. Fully automatic inflation and deflation controlled by smooth-touch illuminating buttons. Adjustable volume which can be turned off for privacy during readings. English and Spanish audio instructions and measurement result announcements. Automatic memory storage, 2-person/30 readings each bank. Guest Mode option takes readings without memory storage. Comfortable, secure wrist cuff and safely latex-free. Battery powered with automatic shut-off. Complete Monitoring System: All-inclusive value. Digital monitor with attached adult wrist cuff, canvas storage case, two AAA batteries, detailed bilingual English/Spanish instructions, quick start guide and FAQ pamphlet, measurement results tracking log, lifetime limited warranty and knowledgeable toll-free customer care help line. Made in China.
Applying Your Wrist Cuff: 1. Place the preformed cuff on your left wrist so that the digital display is facing towards you. 2. Position the cuff 1/4 inch to 1/2 inch from the top edge of the ulna bone. 3. Wrap the cuff around your wrist to fit comfortably yet snug. If for any reason you are unable to or should not use your left wrist please modify the instructions for cuff application to your right wrist Your physician can help you identify which wrist is best for taking measurements.