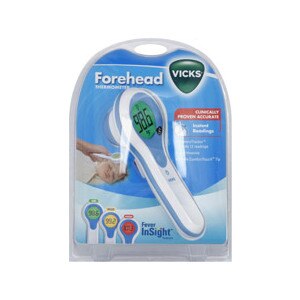 Vicks Forehead Thermometer
Model V977. Clinically proven accurate. Instant readings. MemoryTracker recalls 12 readings. Non-invasive. Gentle ComfortTouch Tip. Fever InSight feature. The forehead thermometer provides innovative, clinically proven technology that makes taking temperatures easy for both parents and children. Features: Fever InSight - large color changing display and backlight. Fast - 3-second readings. MemoryTracker - recalls 12 readings. Non-Invasive - use even while child is asleep. Gentle - ComfortTouch tip. Beeps - when ready. Easy to use. Fever InSight helps you to better understand the meaning of your child's temperature with the color indicated on the display. The screen displays green if no fever, yellow when the temperature is slightly elevated and a red alert for fever. Hospital tested. Meets ASTM accuracy requirements specified in standard E1965-98 as it pertains to infrared thermometers. This thermometer is for household use. Made in China.
How it Works: The forehead is an ideal location for taking accurate, non-invasive temperature measurements. Simply swipe the thermometer over the forehead for an accurate reading instantly.