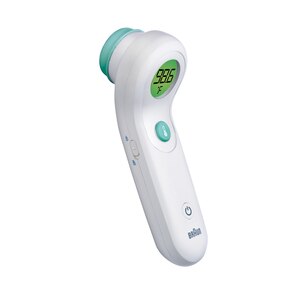 Braun Digital Forehead Thermometer
The Vicks Forehead Thermometer is an easy, non-invasive solution to taking your child's temperature. Simply glide over the forehead for an accurate, 3 second reading. Its easy-to-hold design features a ComfortTouch sensor and a Fever Insight color displays that helps you better understand the severity of your child's temperature.
3 second readings, Can be used on a sleeping baby, Clinically proven accurate, ComfortTouch sensor takes accurate, gentle temperatures, Fever Insight flashes green for no temperature, yellow for a slightly elevated temperature and red for high fevers, Memory saves the last 12 temperatures, 3 year limited warranty
How it Works: The forehead is an ideal location for taking accurate, non-invasive temperature measurements. Simply swipe the thermometer over the forehead for an accurate reading instantly.