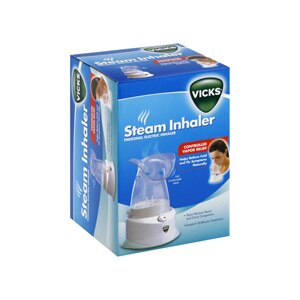 Vicks Personal Electric Steam Inhaler
Personal electric inhaler. Soft, comfortable mask. Controlled vapor relief. Helps relieve cold and flu symptoms naturally. Helps relieve nasal and chest congestion. Simple 5-15 minute treatment. Benefits of natural vapors: Water is one nutrient that all forms of life must have to survive. Moisture is what your body uses to work properly and functions poorly without it. Your lungs and respiratory tract are particularly vulnerable to the dangers of dryness. The Steam Inhaler's soothing steam helps offer relief to loosen congestion naturally and helps your respiratory system do what it's designed to do, helping you to breathe freely in less time than it takes for most medicines to take effect. Steam inhalers can help provide symptomatic relief of cold, flu, bronchitis, sinusitis, laryngitis and allergies. How it Works: 1. The self regulating heater gently boils the water. Use with water only. 2. The self regulating heater gently boils the water. Use with water only. 3. Soothing steam helps relieve coughs, parched throats, nasal, sinus, and chest congestion. Simple to Use: Adjustable control regulates the flow of steam. On/off indicator light. Inhalent Pads: Try Kaz Aromatic Inhalant Pads for soothing relief. Comfortflex Hood: Comfortable, soft flexible hood. UL listed. Made in China.
Read instructions carefully. Keep out of the reach of children. Carefully supervise young children when the inhaler is operating. Inhaler produces hot steam and could cause severe burns or injuries.