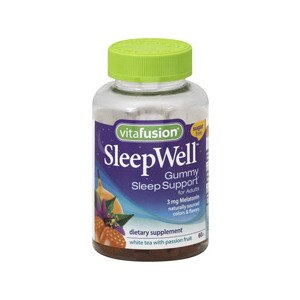 Vitafusion SleepWell Sleep Support for Gummies for Adults
You May Also Like
Size: 10 EA
$4.99
Dietary Supplement. 3 mg melatonin. Gummy sleep support. Naturally sourced colors & flavors. Sugar free. 2 gummies support: natural sleep - melatonin; jet-lag (helps recovery). Lab tested to ensure quality and potency. This product contains naturally sourced colors and flavors. Contains no gluten (wheat), milk, eggs, peanuts, tree nuts, shellfish, or soy. (This statement has not been evaluated by the Food and Drug Administration. This product is not intended to diagnose, treat, cure or prevent any disease.) Made in USA.
Other Ingredients: Maltitol, Gelatin, Natural Flavors, Citric Acid, Lactic Acid, Sucralose, Color (Annatto Extract), Fractionated Coconut Oil, and Carnauba Wax.
Suggested Use: Take two (2) gummies. For best results, take 30-60 minutes prior to sleep event.
The facility that manufactures this product also produces products that contain soy. Melatonin may cause drowsiness or sleepiness; use caution when driving, operating machinery, or engaging in any activity that requires alertness. This product is not intended to treat insomnia or other sleep disorders. Take only as directed. Do not exceed suggested dosage. If you have a medical condition, are on medication or are pregnant or nursing, please seek the advice of a qualified health care professional before using. If minor gas or bloating occurs, reduce serving size. Do not use if inner seal is broken or missing. This product may settle during shipping. Store at room temperature. Do not expose to excessive heat or moisture. Natural colors will darken over time. This does not alter the potency of the product. Keep out of reach of children.