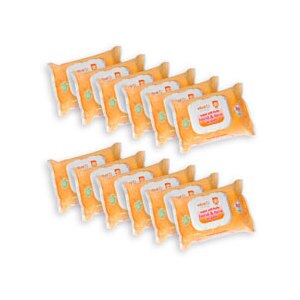 Vital Baby Fruit Scented Hand & Face Wipe Bundle
Whether you've just discovered that you're pregnant (first baby? .... how exciting!) or an experienced parent, you'll discover how amazing the Vital Baby products really are! Our modern and innovative range of safe BPA-free baby feeding products will help you, your partner and your baby enjoy the wonderful bonding experience that feeding provides.
Every product in the Vital Baby range is clearly 'aged' and 'staged' to help you choose the right feeding product as baby progresses from breast and bottle feeding through weaning, self-feeding and beyond. Look no further...we have done the thinking for you! Check out our super value product bundles such as the Weaning Kit, Feeding Kit, Toddler Kit, Trainer Cup Kit, Cutlery Kit, Freezer Pots Bundle, Hand and Face Wipes Bundle and the Nurture Starter Kit. Giving you "all you need packs" at super value prices.
We love our babies and we want them to be nice and clean! That is why we bundled together the Hand and Face Wipes. Each one has 30 wipes in them and there are 12 to a bundle. Our commitment to giving moms a helping hand is second to none. That is why we have developed a range of paraben-free baby wipes (in addition to our fantastic feeding products) to help keep baby clean whilst at home or when out and about!
Their mild, alcohol free hypoallergenic formulation gently cleanses and moisturizes baby's delicate skin leaving it clean, soft and fresh. These hypoallergenic baby wipes are perfect for everyday use at home or when you are on the move to help keep baby clean. It is important that you start to teach your baby the importance of hygiene from an early age. Always clean your baby's hands and face before and after mealtimes especially on outings and after playing outside or with pets.
Our Award Winning super soft fruity hand and face baby wipes are ideal for sticky hands and faces.
Contains the following products:
Vital Baby Fruity Hand & Face Wipes (30ct) 12pack
Super soft and sensitive
Specially formulated for sticky hands and faces
Fresh fruity fragrance
Hypoallergenic baby wipes
Dermatologically tested
Alcohol free
Paraben free