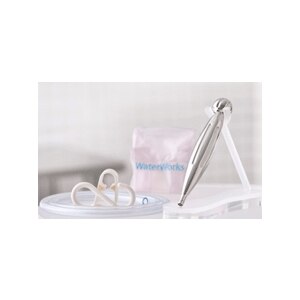 WaterWorks Natural Vaginal Cleansing and Odor Elimination Douche
WaterWorks is an all-natural, easy-to-use feminine cleansing system that was designed to minimize the risks often associated with over-the-counter douching products. WaterWorks is the only product that is clinically proven safe and effective in neutralizing feminine odor.

What does it do?It neutralizes odor by using only tap water and a patented medical-grade stainless steel nozzle. It safely and effectively cleanses the vagina of excessive vaginal discharge, eliminates odor and maintains a healthy vaginal pH level.

How does it work?Water is gravity fed to the medical-grade stainless steel nozzle (weighting 1 ounce) from a stylish, reusable 32-ounce water container, ensuring a safe, low-pressure flow downward against the walls of the vagina, The combination of stainless steel and water produces a natural deodorizing and cleansing reaction.

Why just tap water?Using water alone is gentler to the vaginal ecosystem than harsh irritating chemicals or fragrances.

Waterworks is not for you if:
You have a vaginal infection. See your doctor and have your infection treated before using WaterWorks.
You are pregnant or suspect you are pregnant. WaterWorks does not prevent pregnancy.
www.waterworkshealth.comToll Free Customer Care: 1-866-525-1969